Specifications
Interface
Channels of I/O
Analog:
4 Inputs / 2 Outputs
Max Sample Rate/Resolution
48 kHz / 24-Bit
Display and Indicators
1 x Touchscreen (High-Pass Filter, Input Level, Input Selection, Limit, Menu Navigation, Output Level)
Connectivity
Host Connection
1 x USB Type-C
Analog I/O
4 x XLR 3-Pin Balanced Mic Input
1 x 1/8″ (3.5 mm) TRRS Unbalanced Line Input
4 x 1/4″ (6.3 mm) TRS Unbalanced Headphone Output
2 x 1/4″ (6.3 mm) TRS Balanced Monitor Output
1 x 1/8″ (3.5 mm) TRS Unbalanced Headphone Output
Phantom Power
+48 V (Selectable on Individual Inputs)
Digital I/O
None
MIDI I/O
None
Wireless Connectivity
Bluetooth
Memory Card Slot
1 x microSD (Unspecified Type)
Performance
Frequency Response
Mic Inputs:
20 Hz to 20 kHz ±3 dB
Monitor Outputs:
20 Hz to 20 kHz ±0.5 dB
Gain Range
Mic Inputs:
0 dB Up to +50 dB
Max Output Level
Monitor Outputs:
+3 dBu
Headphone Output Power
220 mW into 32 Ohms
31 mW into 300 Ohms
Dynamic Range
Mic Inputs:
100 dB
Impedance
Mic Inputs:
600 kOhms (Balanced)
EIN
-125 dBA (A-Weighted)
Digital Audio
Sample Rates
 48 kHz (AD/DA Conversion)
Bit Depth
24-Bit (AD/DA Conversion)
Sync Sources
None
Compatibility
OS Compatibility
macOS 10.11
Windows 10
Power
Power Requirements
AC/DC Power Adapter (Included)
Anti-Theft Features
None
Dimensions
13.78 x 10.83 x 3.23″ / 350 x 275 x 82 mm
Weight
4.2 lb / 1.9 kg
RodeCaster Pro
RodeCaster Pro is the world's first fully integrated podcast production studio. Whether you are just starting out, or are a seasoned broadcast professional, the RØDECaster Pro Podcast Production Studio is all you will ever need.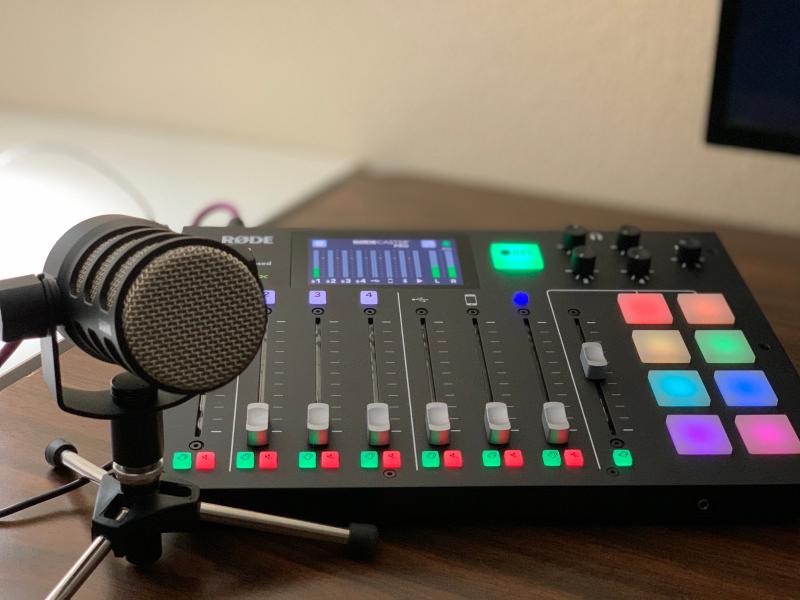 All about the RØDECaster Pro
Get an in-depth look at all the features of the revolutionary RØDECaster Pro podcast studio with these videos.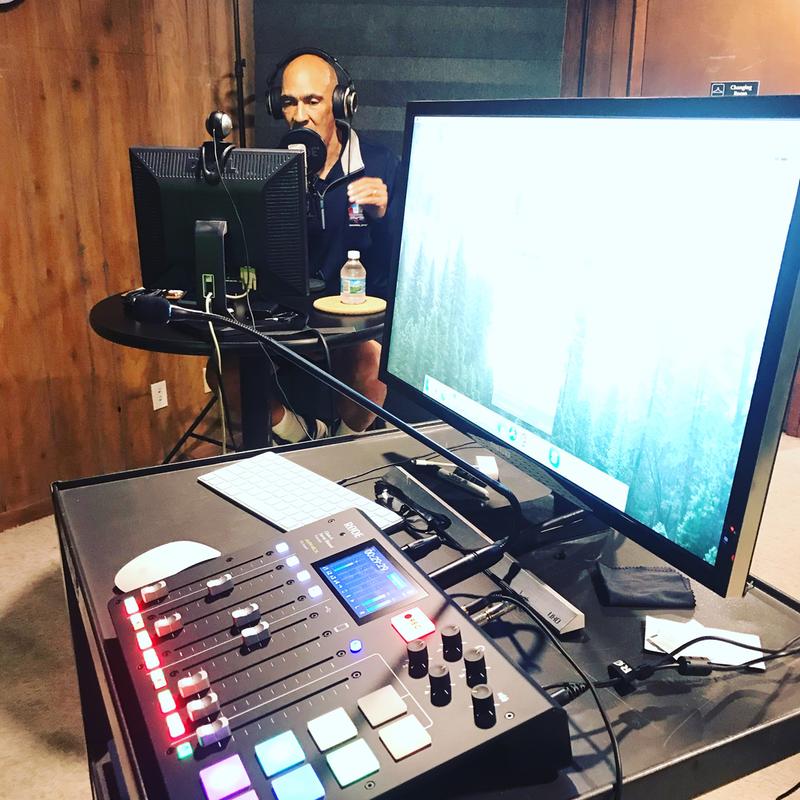 An Overview of the RØDECaster Pro
Connect and record
The 4 high-quality microphone channels are able to power studio condenser microphones as well as conventional dynamic microphones. You can quickly connect microphones for you and your guests with automatic level setting and one-touch recording to a microSD card. You can literally be recording your first podcast within minutes of taking the RØDECaster Pro out of the box.
Sound Effects and Jingles
The RØDECaster Pro comes with eight programmable sound effects pads, for instant triggering of sound effects, music, jingles, applause and ads – perfect for giving your podcast that professional quality. You can record audio direct to the programmable pads from any input, or simply "drag and drop" files from your computer using the supplied software. You can even select your favourite colours for the pad illumination.
Phone calls
Have a remote guest you want to interview? Simply connect your phone to the RØDECaster Pro via Bluetooth™ or with a TRRS cable. The RØDECaster Pro automatically provides "mix-minus" audio to prevent echo being heard by the caller, without the need to purchase dedicated and costly hardware. Telephone interviews with a remote guest never sounded so good!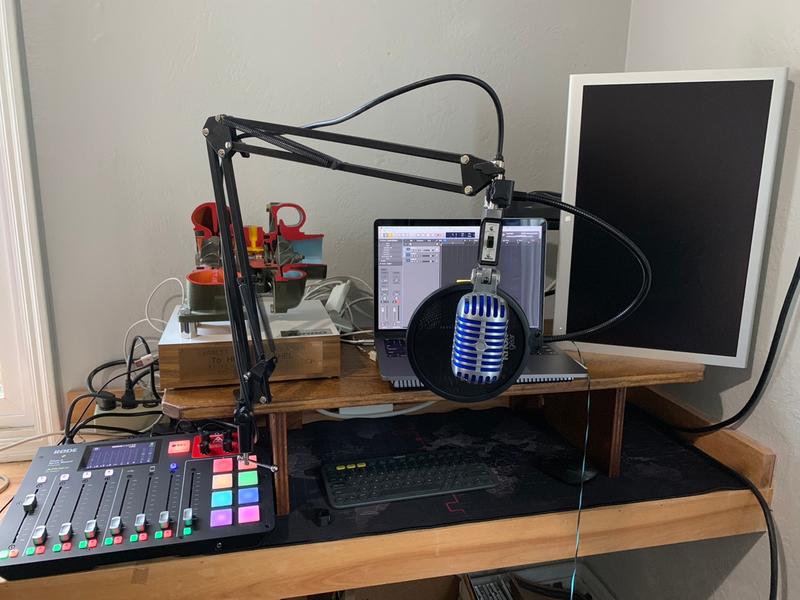 Sound like a million dollars
Class A Servo-biased Preamps
The RodeCaster Pro's pristine preamps and outputs feature Class A circuitry, as found in broadcast consoles that cost hundreds of thousands of dollars. The Class A preamps provide a much cleaner gain structure with lower levels of distortion. The result is an incredibly clean, low-noise signal. The Preamps are also servo-biased, keeping distortion levels low. Your signal is broadcast-pure.
APHEX® On board
Your pristine signal can also be enhanced with the legendary patented audio processors, APHEX Aural Exciter™ and APHEX Big Bottom™. These have been incorporated in the audio processing section of the RØDECaster Pro, and your sound will have that rich, warm tone only found in professional studios. The RØDECaster Pro also features multistage dynamics, such as compression, limiting, de-essing and noise-gating.
Recording options
The RodeCaster Pro operates as a standalone unit straight out of the box, recording your finished podcast direct to a microSD™ card. The RØDECaster Pro also connects to your computer as a USB audio interface, so you can record your podcast to your favourite recording software, or stream live. Multitrack recording is also available via USB to your computer's recording software (including Garage Band, Reaper, Logic, ProTools, Audition and more), allowing you to separately record each of the sources to its own track for editing in post-production. Naturally, a stereo mix of your finished podcast will also be captured in multi-channel mode.