Insta360 X3 Invisible Dive Case
Insta360 X3 Invisible Dive Case ฟิล์มปรับปรุงการถ่ายภาพการดำน้ำจากส่วนลึกใต้ผิวน้ำโดยใช้ Invisible Dive Case จาก Insta360 ปรับแต่งได้พอดีกับกล้อง X3 ของคุณและออกแบบมาเพื่อชดเชยการหักเหของน้ำ เคสใสช่วยให้มองเห็นหน้าจอสัมผัสและส่วนควบคุมของคุณ ในขณะเดียวกันก็รับประกันวิดีโอ 360° ที่ราบรื่น มีระดับความลึกกันน้ำระดับ IPX8 ซึ่งสามารถจมอยู่ใต้น้ำได้ลึกถึง 164 ฟุต ตัวยึดแบบ 2 ขาในตัวสำหรับยึดเคสไว้กับไม้เซลฟี่หรือตัวยึดที่คุณเลือก และสามารถปรับให้เข้ากับเกลียวขนาด 1/4″-20 ที่เข้ากันได้ด้วยอะแดปเตอร์ที่ให้
Completely invisible case with no obstruction in 360 shots.
Seamless underwater stitching.
Waterproof to 164ft (50m).
Crystal clear 360 video.
Use with the Invisible Selfie Stick for awesome third-person views.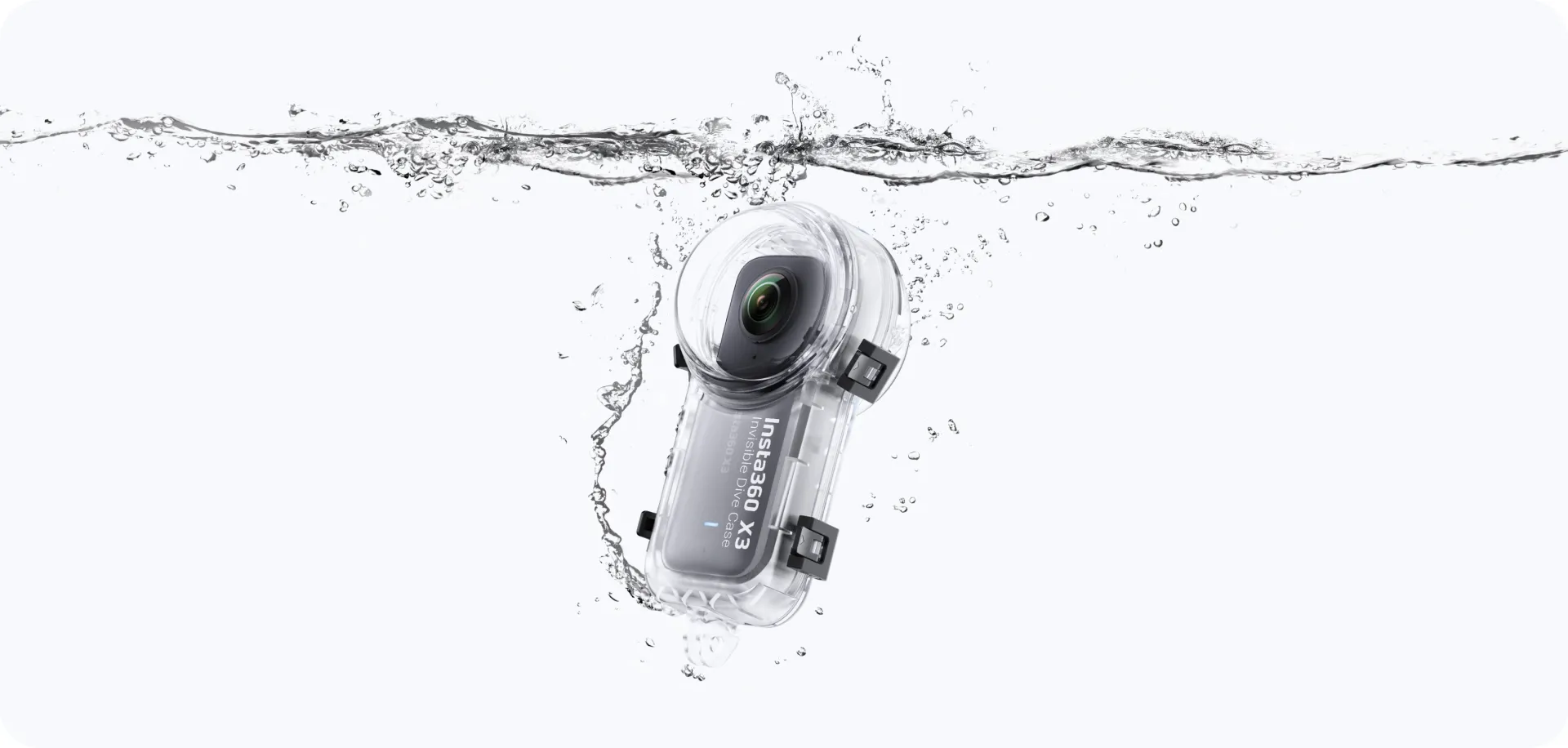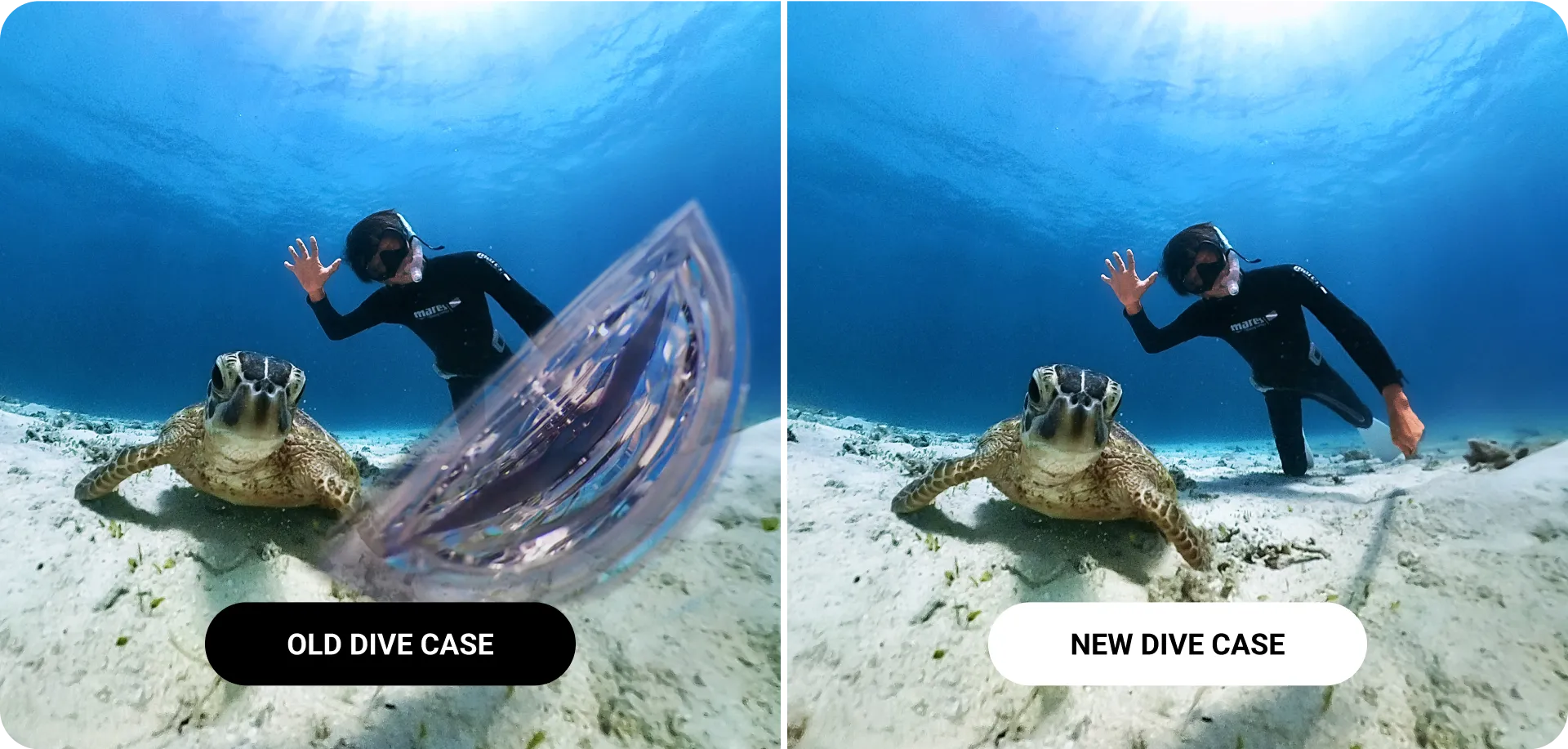 Completely invisible in 360 footage.
Advanced technology means the bottom of the case stays 100% invisible in 360 shots. Reframe your footage in any direction without obstruction.
Seamless underwater shots.
Thanks to its special dome structure, your 360 shots come out with perfect stitching. The case compensates for water refraction and prevents warping and stitching issues.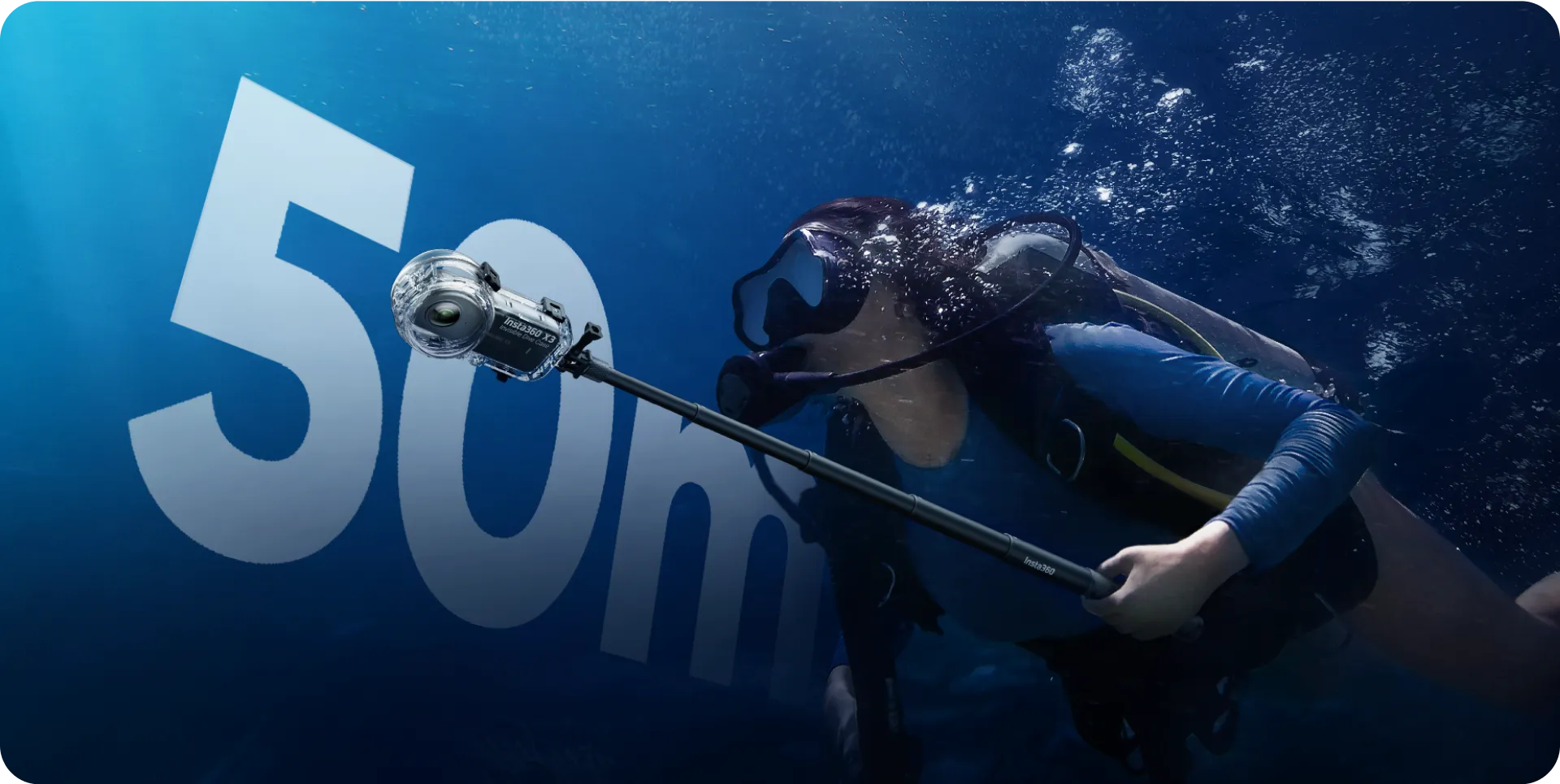 The purpose-built sealed structure makes the Invisible Dive Case IPX8 waterproof, letting you shoot as deep as 164ft (50m).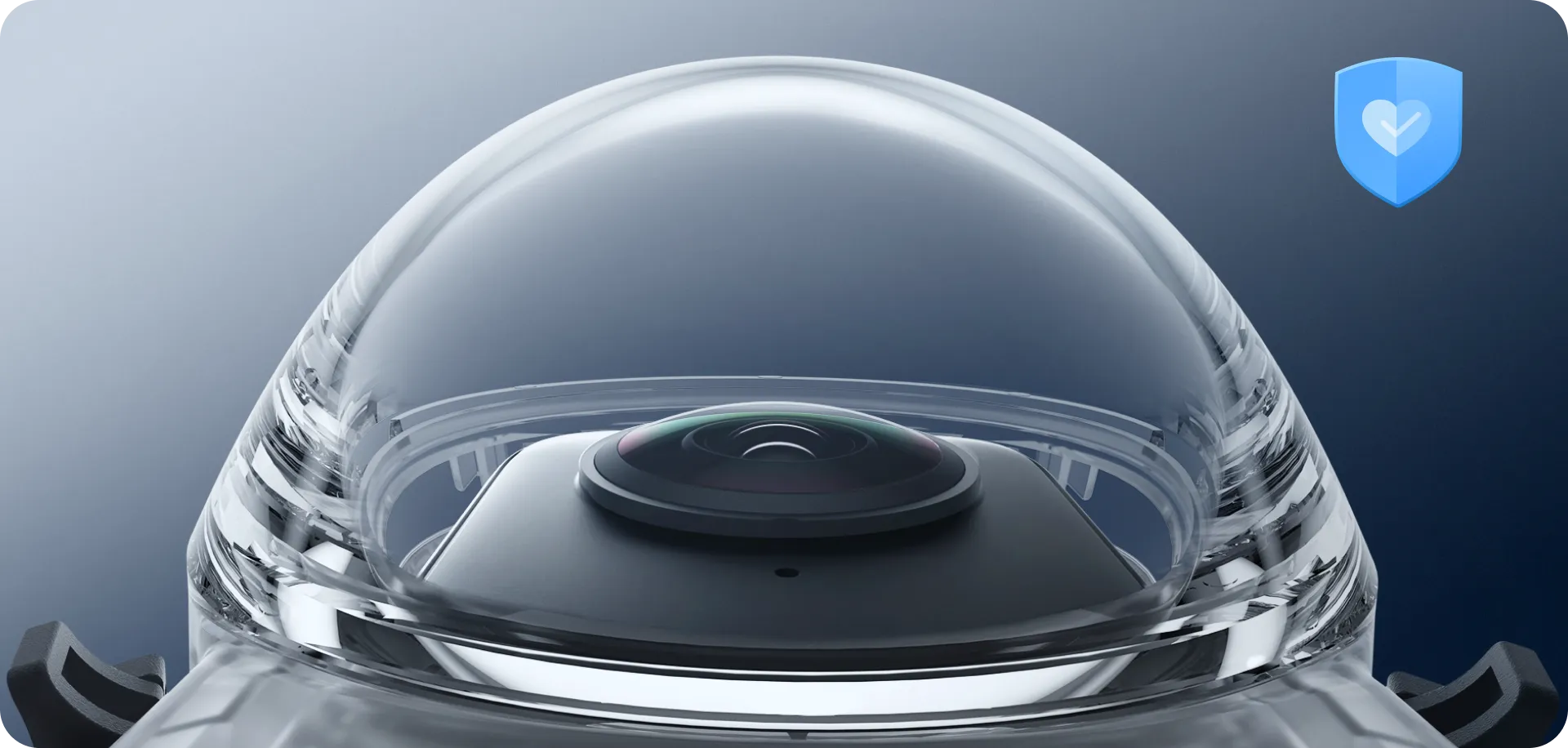 Official accessory, tried and tested.
Specially designed and made by Insta360 for complete protection for your X3. Strict testing guarantees a safe and secure underwater experience.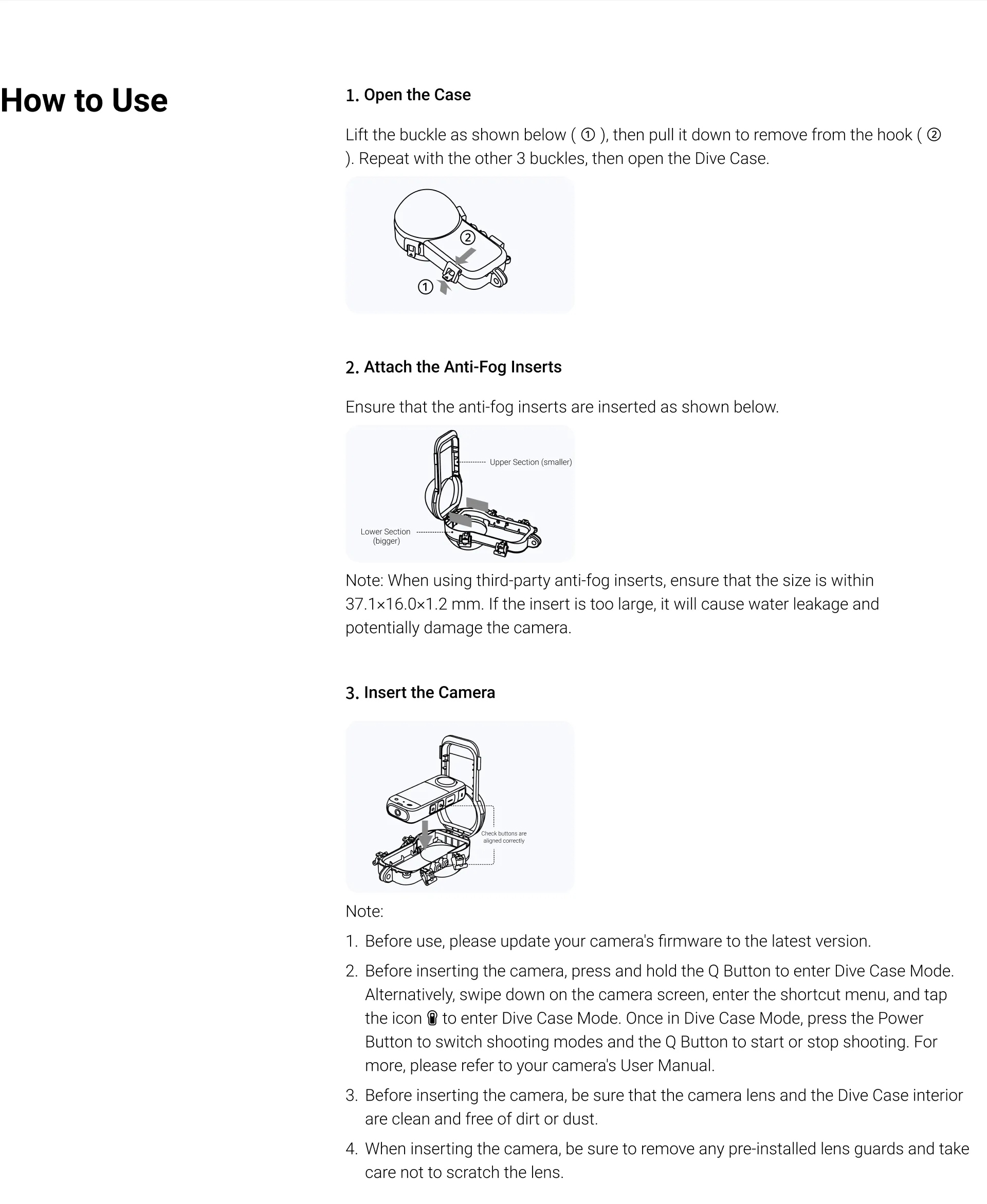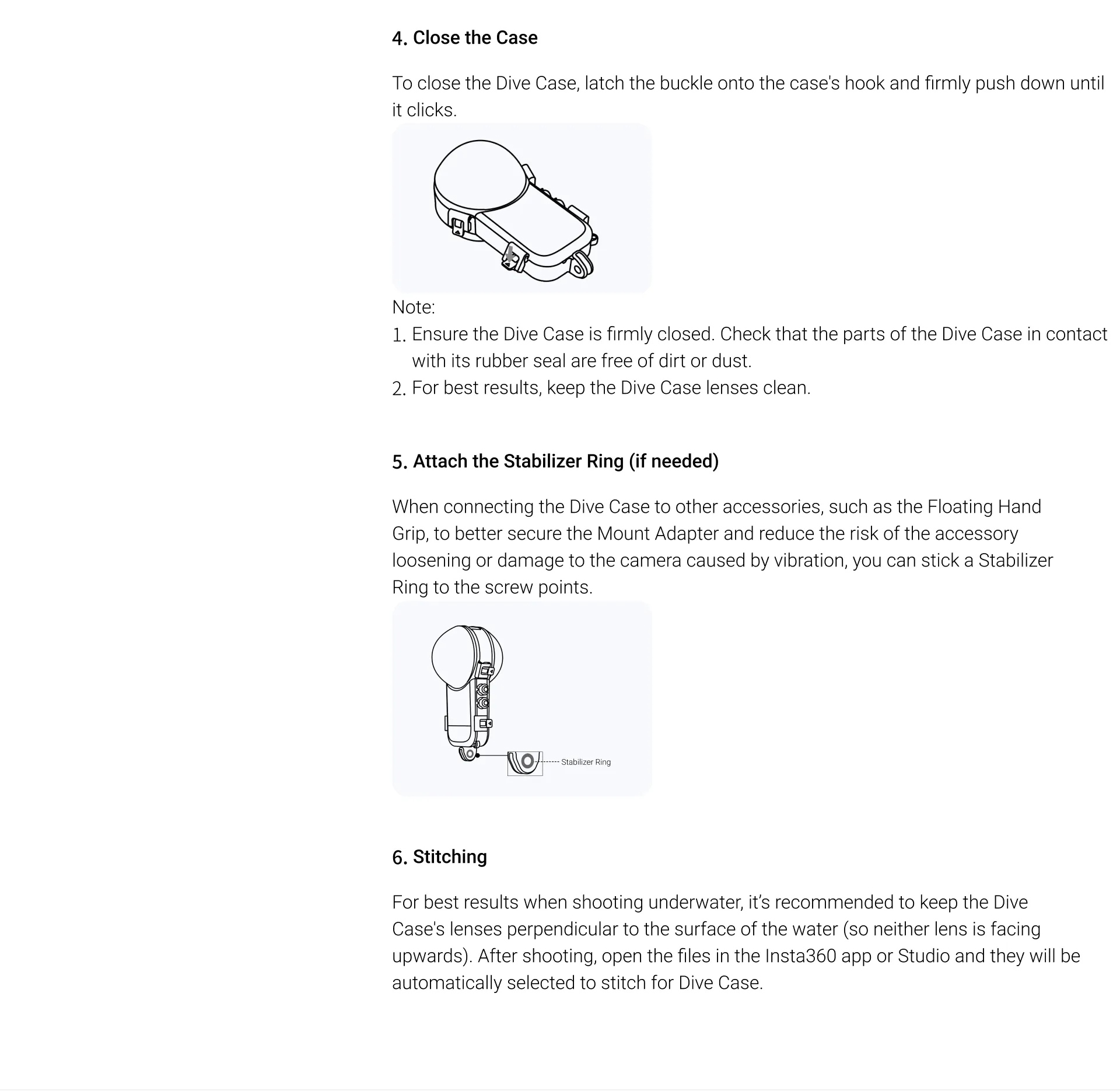 Notes
1. Do not open the Dive Case while it is wet.
2. After using the product in seawater, take out X3 and soak the Dive Case in fresh water for at least 60 minutes (ensure the Dive Case is firmly closed beforehand). If the Dive Case is not rinsed after use in seawater, residual salt may crystalize in gaps. These salt crystals will not dissolve in water and can lift the rubber seal and cause water leakage. After soaking the Dive Case in fresh water, rinse it under gently flowing tap water. Never apply a strong water stream from a single direction, as it may cause water leakage.
3. Ensure that the dive case is firmly closed before washing. After washing, wipe away any water droplets remaining on the surface with a soft, dry cloth and leave to dry. Ensure there is no sand on the Dive Case before drying as sand may scratch the product surface when wiped with a cloth. Do not dry with a hair dryer or any other heat source.
4. Do not store the Dive Case in a hot or humid environment. For example, do not leave it inside a hot car.
5. Do not wash the Dive Case with soap, neutral detergent, or alcohol cleaning products. This may degrade the waterproofing performance.
6. Store the product in a dry, well-ventilated location.
7. Secure the Invisible Dive Case tightly with the screw when mounting on the Invisible Selfie Stick. Keep them in a straight line to prevent the Invisible Selfie Stick being visible in the footage.
8. Please use X3 firmware version v1.0.80 or above.
รายละเอียดเพิ่มเติม Insta360