Zhiyun CRANE 4
Zhiyun CRANE 4 ด้ามจับสามารถยืดปรับความยาวได้เหมาะสำหรับการใช้งานแบบถือมือเดียว หรือถือสองมือทำให้ผู้ใช้งานจับถนัดมือมากขึ้นเวลาใช้งาน ที่รองข้อมือ อัพเดทใหม่ เวอร์ชัน 2.5 มีความยืดหยุ่นขณะใช้งานและปรับตามมุมได้ตามที่ต้องการ เพียงหมุนวงล้อปรับองศา ทำให้ผู้ใช้งานจับถือได้เป็นเวลานานโดยไม่เมื่อยล้า สามารถเปลี่ยนกล้องเป็นแนวตั้งและแนวนอนได้อย่างง่ายดาย โดยระบบเพลทเวอร์ชันใหม่ สามารถติดตั้งกล้องได้ทั้งแนวตั้งและแนวนอน หน้าจอทัชสกรีน 1.22 นิ้ว มี Bluetooth Control 5.0 รองรับ การควบคุมกล้องผ่าน Bluetooth อีกทั้งยังรองรับติดตั้งอุปกรณ์เสริมส่งสัญญาณภาพไร้สาย Built-In ไฟในตัว กำลังไฟ 10 W CRI: 95+ CCT: 2700K-5500K และยังมีไฟแสดงสถานะความสมดุลของกล้องเพื่อให้การบาลานซ์กล้องที่แม่นยำ ไฟสีขาวบอกสถานะไฟ Balanced ไฟสีแดงบอกสถานะ Unbalanced ใช้เวลาในการชาร์จแบตเตอรี่เพียง 1.50 ชั่วโมง สามารถใช้งานต่อเนื่องได้ถึง 12 ชั่วโมง น้ำหนักเพียง 1,673 กรัม รองรับกล้อง Full-Frame ไปจนถึงกล้องถ่ายภาพยนต์ขนาดเล็ก
อุปกรณ์ในกล่อง Zhiyun – CRANE 4 Standard
CRANE 4 Gimbal x1
Tripod (WB2) x1
Storage Bag x1
Camera Backing Base (WB3) x1
Lens Support (CRANE 2S) x1
Dual-layer Quick Release Plate x1
Reflector x1
3/8 Screw x1
1/4 Screw x3
M4 Wrench x1
Sony Control Cable-Type-C to Multi USB LN-UCUS-A03-300MM x1
Canon Camera Control Cable LN-MBUC-A02 x1
Canon Camera Control Cable LN-NBUC-A01 x1
Panasonic Camera Control Cable LN-UCUC-A02 x1
USB Type-C Cable x1
Quick Start Guide+Disclaimer and Warning x1
อุปกรณ์ในกล่อง Zhiyun – CRANE 4 COMBO
CRANE 4 Gimbal x1
Tripod (WB2) x1
Storage Bag x1
Camera Backing Base (WB3) x1
Lens Support (CRANE 2S) x1
Dual-layer Quick Release Plate x1
Reflector x1
3/8 Screw x1
1/4 Screw x3
M4 Wrench x1
Sony Control Cable-Type-C to Multi USB LN-UCUS-A03-300MM x1
Canon Camera Control Cable LN-MBUC-A02 x1
Canon Camera Control Cable LN-NBUC-A01 x1
Panasonic Camera Control Cable LN-UCUC-A02 x1
USB Type-C Cable x1
Quick Start Guide+Disclaimer and Warning x1
Sling Grip (Only in COMBO package) x1
Wrist Rest (Only in COMBO package) x1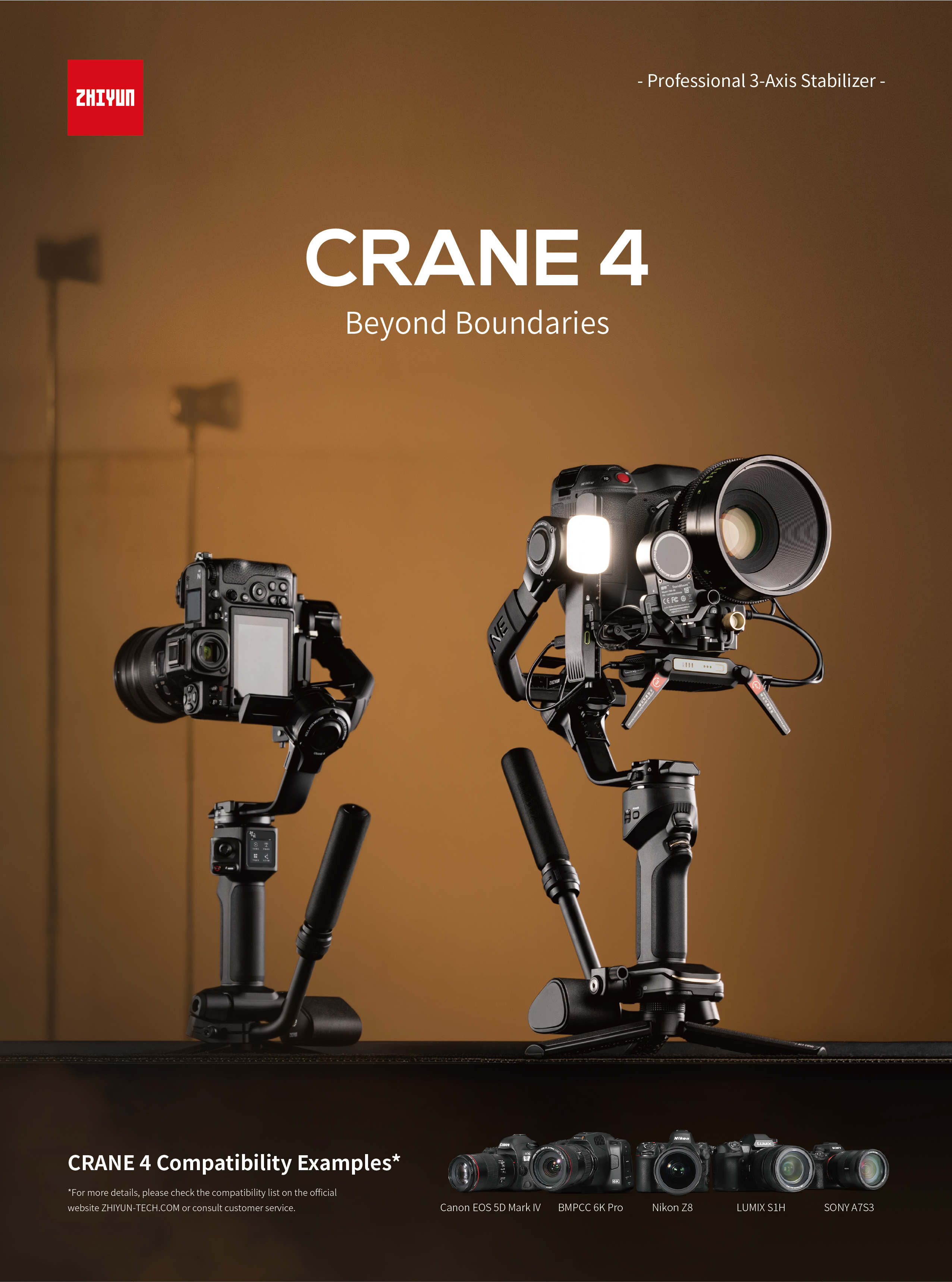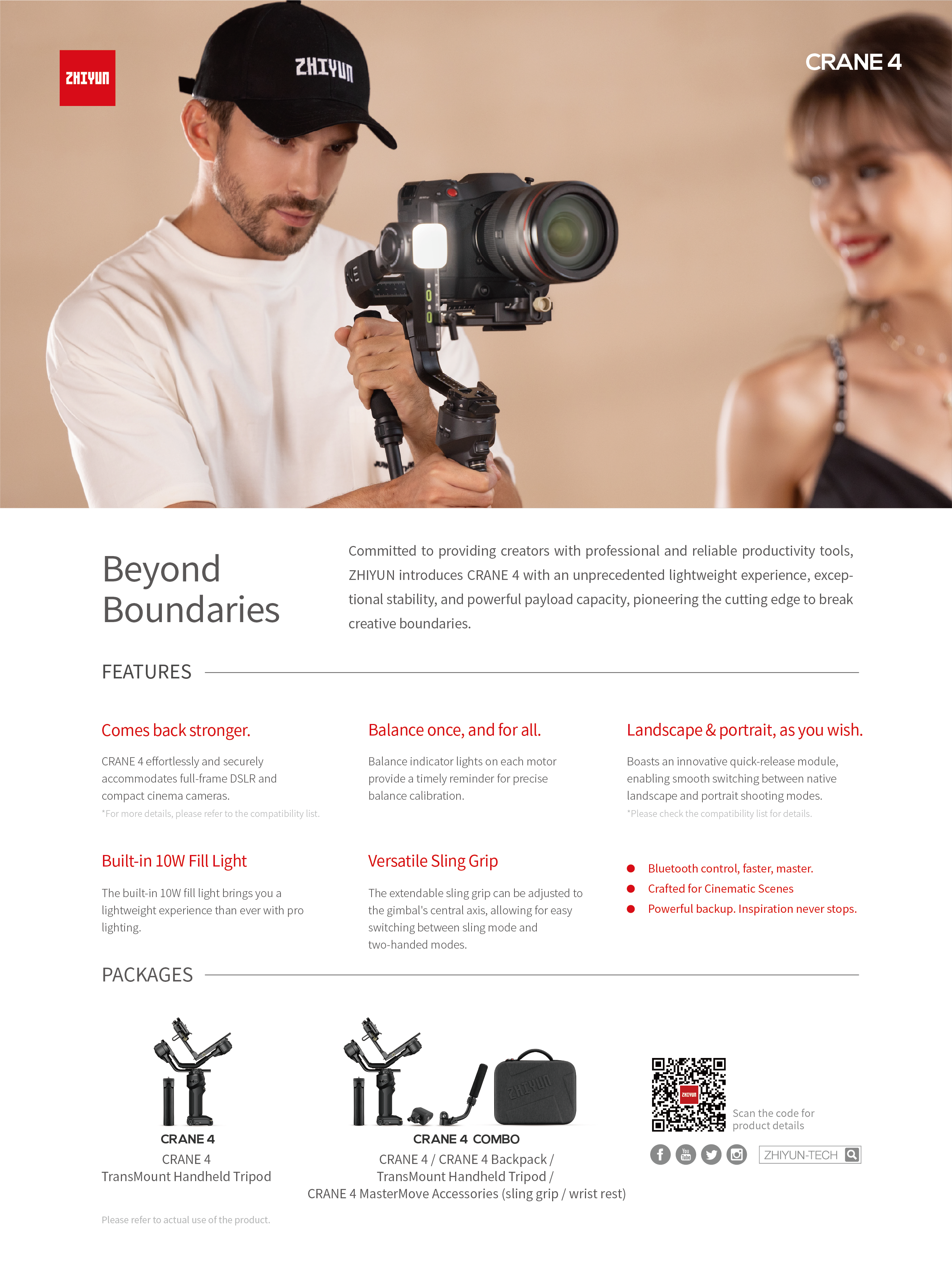 CRANE 4 KSP
Beyond Boundaries
INTRO
Committed to providing creators with professional and reliable productivity tools, ZHIYUN introduces CRANE 4 with an unprecedented lightweight experience, exceptional stability, and powerful payload capacity, pioneering the cutting edge to break creative boundaries.
STRUCTURE
DESIGN
Less burdened.
Feels right.
Crafted with ergonomic precision, the lightweight design delivers superb handling. Professionalism no longer has to name after the cumbersome.
COMPATBILITY
Calls accepted.
Comes back stronger.
Lightweight design doesn't mean compromising on payload. Thanks to its longer arm length, stronger motors and extended quick release plate, CRANE 4 effortlessly and securely accommodates full-frame DSLR and compact cinema cameras.
*For detailed camera compatibility, please refer to the compatibility list.
Balance once, and for all.
Balance indicator lights added to each motor provide a timely reminder for precise balance calibration.
DETACHABLE PORTRAIT SWITCH
Landscape & Portrait,
as you wish.
Boasts an innovative quick-release module that integrates horizontal and vertical lock structure, enabling effortless switching between native landscape and portrait shooting modes.
*Cameras with certain lenses may not be balanced if switched to Portrait mode. Please check the compatibility list for details.
SLING MODE
Revolutionary Sling Mode.
More precise control.
The adjustable sling grip, combined with the wrist rest that supports fine-tuning angle adjustment, significantly reduces shooting fatigue while giving you more precise movement control.
Versatile Sling Grip.
Tailor-made solutions.
The extendable sling grip can be adjusted to the gimbal's central axis, allowing for easy switching between sling mode and two-handed modes. The 1/4″ screw hole on the grip unlocks more combination possibilities of lights and accessories.
Upgraded Wrist Rest
The flexible wrist rest structure features energy-saving adjustment and skin-friendly texture, making creation effortless and comfortable.
INTERACTIVITY
FILL LIGHT
Built-in 10W Fill Light
The built-in 10W fill light adds to the portability of quality shooting, bringing you a lightweight experience than ever with pro LED lighting.
Max Illuminance: 3200 Lux
CRI: 95+
CCT: 2700K-5500K
*The max illuminance is gathered at 5500K, 0.3m and with 100% brightness. The data is based on tests in the standard environment at the ZHIYUN lab.
BLUETOOTH
Bluetooth control.
Faster, master.
CRANE 4 supports Bluetooth shutter control with mainstream cameras. You can start/stop recording or trigger photo-taking functions via the recording button, experiencing a seamless shooting like never before.
*For the camera models and protocols compatible with the Bluetooth shutter control, please check the official compatibility list.
SCREEN
Color Screen.
Brilliance within touch.
The 1.22-inch color touchscreen supports multiple adjustments and includes built-in features such as motion timelapse, elevating your creativity at fingertips.
TOOL
Attention to details.
Born for pro.
Comes with a magnetic tightening wrench to assist in every shooting session.
Equipped with a silicone protective sleeve, reducing wear and tear of axis arms while carrying the gimbal.
CUSTOMIZATION
Customization.
Icing on the cake.
The trigger button and front dial support customizable parameter adjustment, such as ISO, shutter and aperture, as well as focus motor and gimbal mode control, making the creative process more intuitive and convenient.
*For the full compatibility of functions, please refer to the official compatibility list.
EXPANSION
ACCESSORY
Crafted for cinematic scenes.
CRANE 4 can be paired with a rich selection of professional accessories, creating a comprehensive creative ecosystem. The TransMount Image Transmission system allows you to achieve excellent remote monitoring and collaborative creation. Along with follow-focus motors, you're empowered to break the limits of professional filmmaking, unleashing the full potential to make cinematic grand scenes.
*For detailed instructions on TransMount follow focus, please refer to the product manual or official dedicated page.
*TransMount Image Transmission accessories and follow focus motor need to be purchased separately.
Explore more
with Dual Follow Focus.
With the built-in dual follow focus port, CRANE 4 can be paired with external dual servo focus controllers to provide a precise focusing experience.
Together with TransMount Image Transmission system, you are able to focus and zoom while live monitoring the shots, getting excellent focusing performance even during flexible camera movements and next-level footage with enhanced depth and dynamics.
*For compatibility details regarding follow focus operations, please refer to the compatibility list.
*When installing dual follow focus controllers, choose the type of controller through the menu. Follow focus controllers and TransMount Image Transmission accessories need to be purchased separately.
RUNTIME
Powerful backup.
Inspiration never stops.
The four 18650 batteries firmly back up your whole-day shooting. The PD fast charging gets you fully charged in just 1 hour and 50 minutes. Embrace uninterrupted inspiration as you charge and shoot simultaneously, enjoying a seamless and stable creative journey.
Fully-charged takes only: 1h50min
Runtime up to: 12h
*The data above are based on tests in the standard environment at the ZHIYUN lab. The peak runtime of 12h is gathered with Canon 5DSR+EF 24-105mm 1:4L at the static status. The actual runtime and charging time may differ.
รายละเอียดเพิ่มเติม Zhiyun